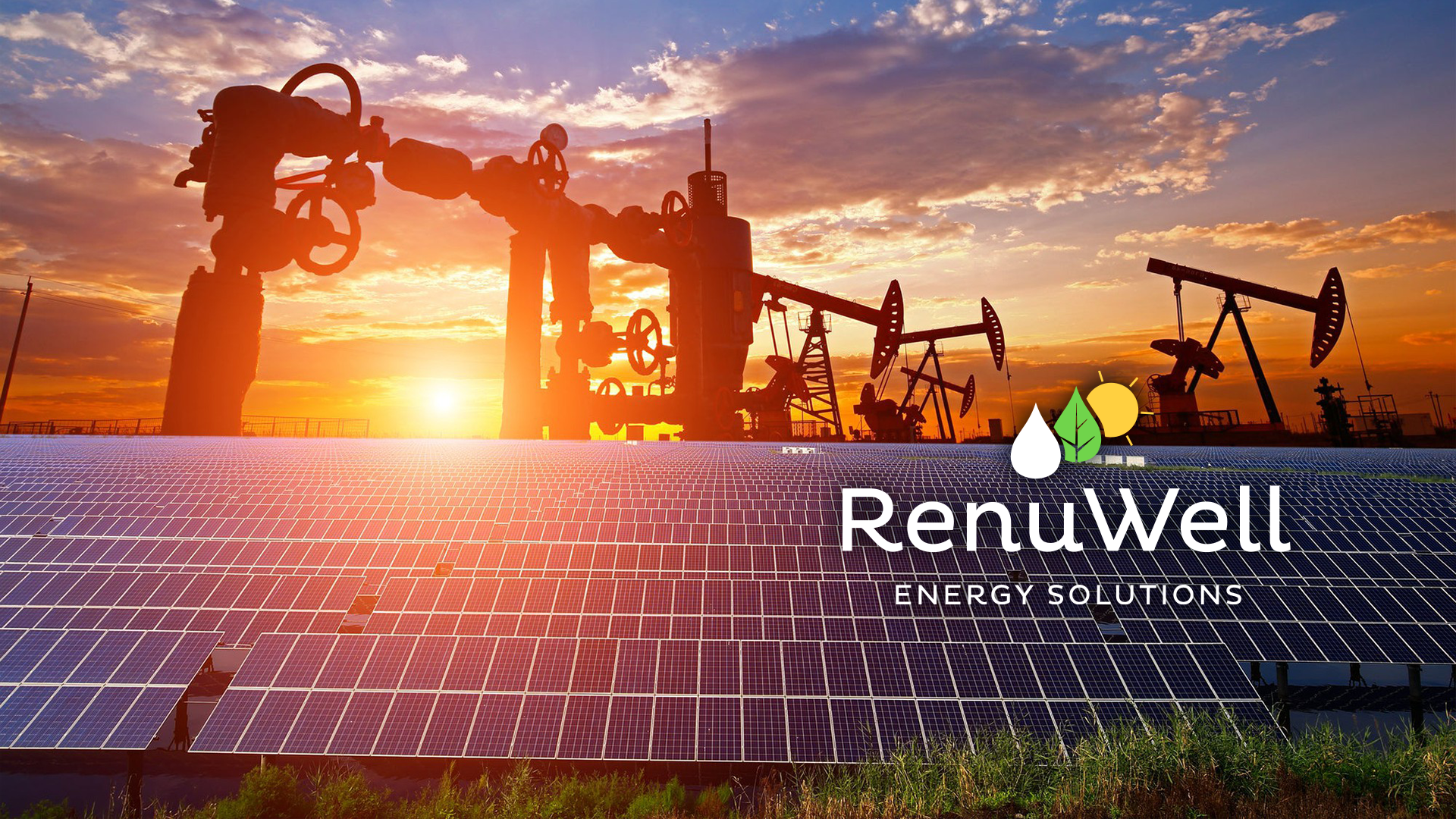 For most of the 20th century, the oil and gas industry brought jobs and prosperity to Southern Alberta. However, in recent years, declining production in these conventional fields has left a legacy of inactive and abandoned infrastructure throughout rural communities. At the same time, the rapid increase in renewable energy development requires land and competes with traditional agricultural uses. In response to this situation, RenuWell Energy Solutions has been working with the M.D. of Taber to explore using abandoned oil and gas sites for small-scale distributed solar generation. This approach takes advantage of the existing leases, powerlines and roads that are needed for solar development. At the same time, it reduces costs for lease reclamation and relieves competition for agricultural lands.
With funding provided by the Municipal Climate Change Action Centre, our team has been consulting with landowners, the irrigation community, utilities, oil and gas companies, regulators and renewable energy developers to understand how these problem sites can be turned into community-owned, small-scale solar projects. Between March 13 and May 31, 2019, with advice and support from the leadership of the Action Surface Rights Association, we spoke at 6 related events and hosted 5 public open houses across the MD of Taber. Overall, we presented our concept to about 400 people.
Beyond conversations, about 20 people participated in an in-depth survey which found:
■ 93% of respondents replied that abandoned well clean-up should be a high government priority
■ 86% are in favour of the MD of Taber continuing to support renewable energy projects
■ 83% are interested in having a solar project on their land (33% strongly and 50% moderately)
There was also great interest in possible ownership models:
■ 92% were interested in local community ownership with partners sharing the risks of small generation systems to gain taxation revenue from abandoned wells.
■ 91% of respondents were interested in learning more about cooperative ownership with other landowners and neighbours.
A common concern was raised about maintaining the agricultural land base in the face of large utility-scale solar projects. This concern has been largely relieved due to our preference to reuse existing leases that are located in lower productivity areas like pivot corners or tame grassland.
In speaking with landowners and reviewing the survey responses, most see the project as potentially positive (73%), while none thought it was likely to be negative. Also, given the difficulties in lease remediation for food crops, many responded that small-scale solar and long-term bioremediation could provide the best possible way to create economic opportunities for landowners (providing electricity to their operations or selling to the grid) while the land is in recovery.
On February 12th, 2020, the MD of Taber and RenuWell team hosted a stakeholder meeting at the Heritage Inn to present the results of our public consultations to date. The slides that were presented can be viewed at the links below:
Presentation by Brian Peers - Municipal Director of Lands and Leases - MD of Taber

RenuWell Site Selection Guide Application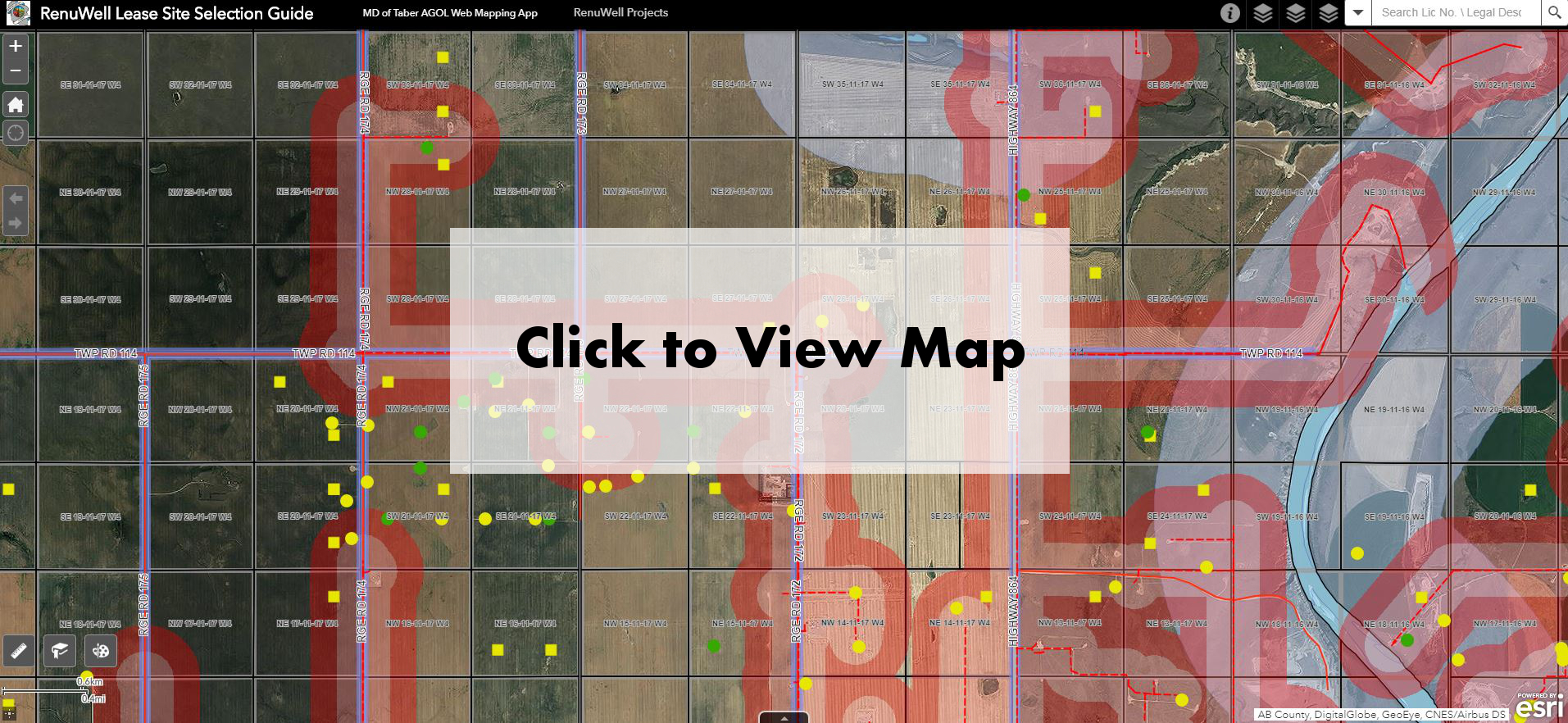 RenuWell Site Selection Guide Application - As a Partnership with the MD of Taber this application is intended to provide valuable information that specifically relates to the continued research, development and advancement of renewable resources and solar generation in our area.
The data and information provided are to be used as a guide to assist with general site selections. We highly recommend using this product as a guide and continuing your research by validating the currency and accuracy of all information with data source providers directly. Site selection buffers are based on standards that may change or may vary in the industry and should be confirmed throughout your research and selection.
Our partnership gives data credit to the Orphan Well Association, Abacus Datagraphics Ltd. Data Subscriptions, Fortis Inc. and all other provincial or private organisations that have contributed directly or indirectly to this product. As a partnership providing this map viewer-only application we are not violating any licensing agreements associated with our data.
Feedback on the map application can be sent to: Feedback@mdtaber.ab.ca
Thank you in advance for your interest in our mapping application!


Additional links
The Municipal Climate Change Action Centre (MCCAC) Website


News articles
Electrical Industry: https://electricalindustry.ca/latest-news/9562-renuwell-pilot-projects-transform-inactive-wellsites-to-generate-solar-energy
Lethbridge Herald: https://lethbridgeherald.com/news/lethbridge-news/2021/11/10/project-aims-to-re-use-abandoned-well-sites/
Global News: https://globalnews.ca/video/7285087/solar-project-seeks-to-replace-abandoned-rural-oil-wells
Medicine Hat News: https://medicinehatnews.com/news/local-news/2020/08/18/company-gets-southeast-alberta-go-ahead-for-abandoned-well-solar-plays/
QR770 Radio Interview:
Presented at the Federation of Canadian Municipalities virtual 2021 Annual Conference and Trade Show, May 31 to June 4.
In November 2022, partners and stakeholders got together to celebrate the success of the 2 RenuWell Pilot Projects completed in the MD of Taber.