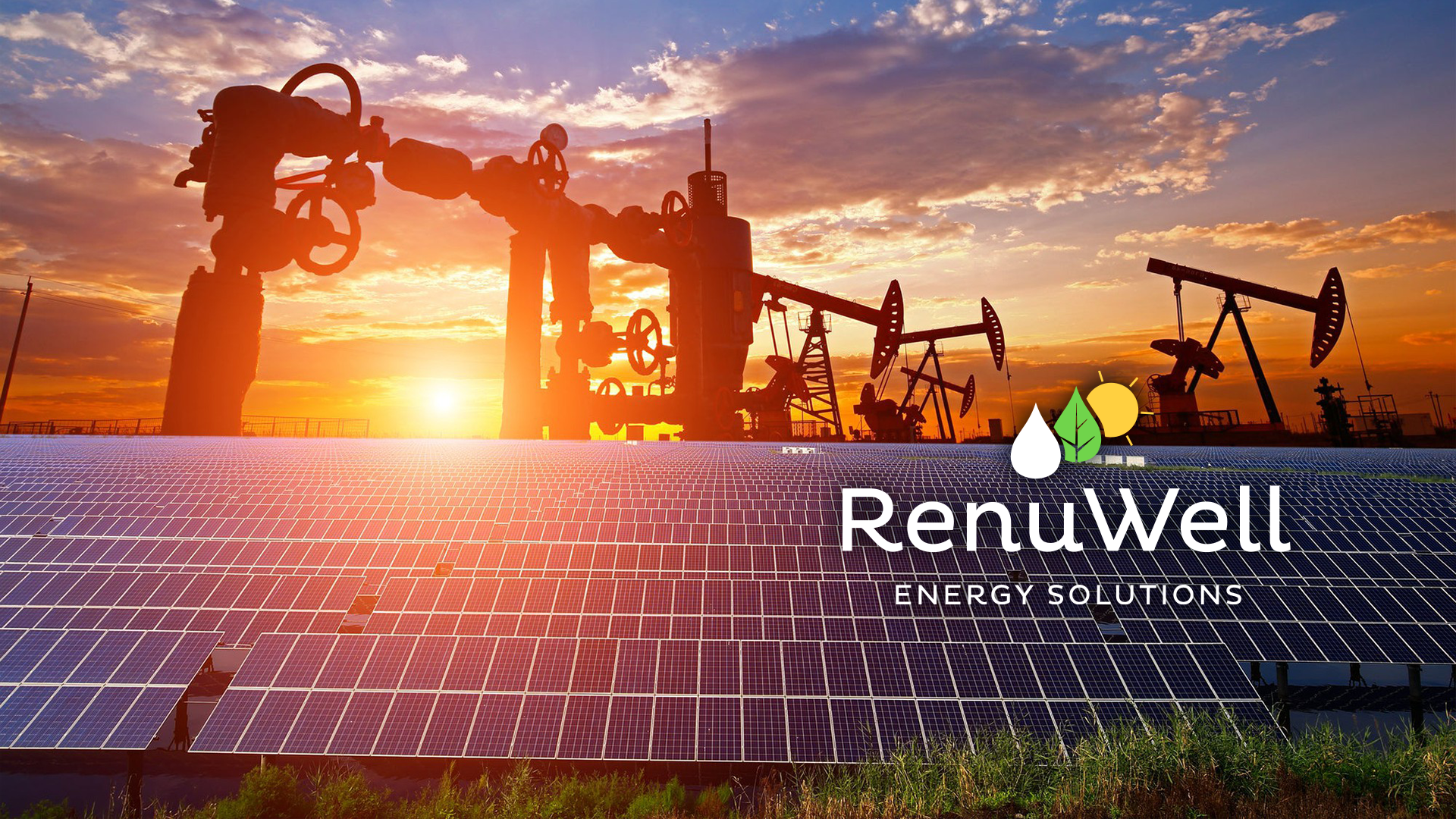 Throughout the majority of the 20th century, the oil and gas industry played a pivotal role in fostering employment opportunities and economic prosperity within the southern region of Alberta. However, in recent years, a noticeable decline in production within these conventional sectors has left a substantial legacy of disused and abandoned infrastructure scattered across rural communities. Concurrently, the rapid proliferation of renewable energy development necessitates land allocation, thereby creating competition with conventional agricultural practices.
In response to this multifaceted challenge, RenuWell Energy Solutions has undertaken collaborative efforts with the Municipal District of Taber to investigate the feasibility of repurposing abandoned oil and gas sites for the establishment of small-scale distributed solar energy generation facilities. This innovative approach capitalizes on the existing leases, powerlines, and road infrastructure that are inherently essential for solar energy development. Moreover, it serves to mitigate the financial burden associated with lease reclamation while alleviating the competition for arable land.
This project became a reality thanks to the support of the Government of Alberta via the Municipal Community Generation Challenge, a funding program overseen by the Municipal Climate Change Action Centre. This funding has enabled us to conduct extensive consultations with a diverse group of stakeholders, including landowners, members of the irrigation community, utility companies, oil and gas enterprises, regulatory bodies, and renewable energy developers.
Between the period of March 13 and May 31, 2019, in collaboration with the guidance and support of the leadership of the Action Surface Rights Association, we actively participated in six relevant events and conducted five public open houses across the MD of Taber, effectively disseminating our concept to approximately 400 individuals.
Beyond mere discourse, we administered an in-depth survey, with approximately 20 respondents, yielding the following noteworthy findings:
A resounding 93% of respondents emphasized the imperative nature of prioritizing abandoned well clean-up as a governmental responsibility.
An impressive 86% expressed unequivocal support for the MD of Taber's continued endorsement of renewable energy projects.
A notable 83% exhibited a keen interest in hosting a solar project on their land, with 33% expressing strong enthusiasm and 50% indicating moderate interest.
Furthermore, our survey revealed a palpable enthusiasm for various ownership models:
A striking 92% conveyed interest in local community ownership, involving collaborative partnerships to collectively assume the risks associated with small-scale generation systems, thereby securing taxation revenue derived from abandoned wells.
An equally substantial 91% of respondents expressed curiosity about cooperative ownership arrangements with fellow landowners and neighbours.
A recurring concern that emerged pertained to the preservation of the agricultural land base in light of expansive utility-scale solar projects. To address this apprehension, our strategy prioritizes the reutilization of existing leases, primarily situated in less agriculturally productive areas such as pivot corners and tame grassland.
Upon extensive conversations with landowners and a comprehensive review of the survey responses, a prevailing sentiment emerges, with a substantial majority (73%) perceiving the project as potentially advantageous, while no respondents held pessimistic expectations. Additionally, owing to the challenges associated with lease remediation for food crops, many respondents recognized that small-scale solar initiatives and long-term bioremediation offer an optimal avenue to create economic opportunities for landowners. These opportunities encompass providing electricity to their operations or selling surplus energy to the grid, thereby facilitating land recovery.
On February 12th, 2020, the MD of Taber and the RenuWell team convened a stakeholder meeting at the Heritage Inn to disseminate the results of our public consultations to date. The presentation slides from this meeting are accessible here.
This application has been developed with the primary purpose of furnishing invaluable information pertaining specifically to ongoing research, development, and progression in the field of renewable resources and solar energy generation within our geographical region.
The data and information herein provided are intended to serve as a guiding resource for general site selection endeavours. We strongly recommend the utilization of this product as a reference tool while concurrently conducting due diligence by meticulously verifying the currency and precision of all data directly from their respective sources. It is crucial to acknowledge that site selection criteria may be subject to industry standards that are subject to modification or variation, necessitating their continuous validation throughout the course of your research and selection process.
Our partnership extends credit to esteemed entities such as the Orphan Well Association, Abacus Datagraphics Ltd. Data Subscriptions, Fortis Inc., and all other provincial or private organizations that have contributed, whether directly or indirectly, to the development of this product. In our capacity as collaborators offering this map viewer-only application, we assert our strict adherence to all licensing agreements associated with the data utilized herein, thereby affirming our compliance with all legal and contractual obligations.
RenuWell Site Selection Map Application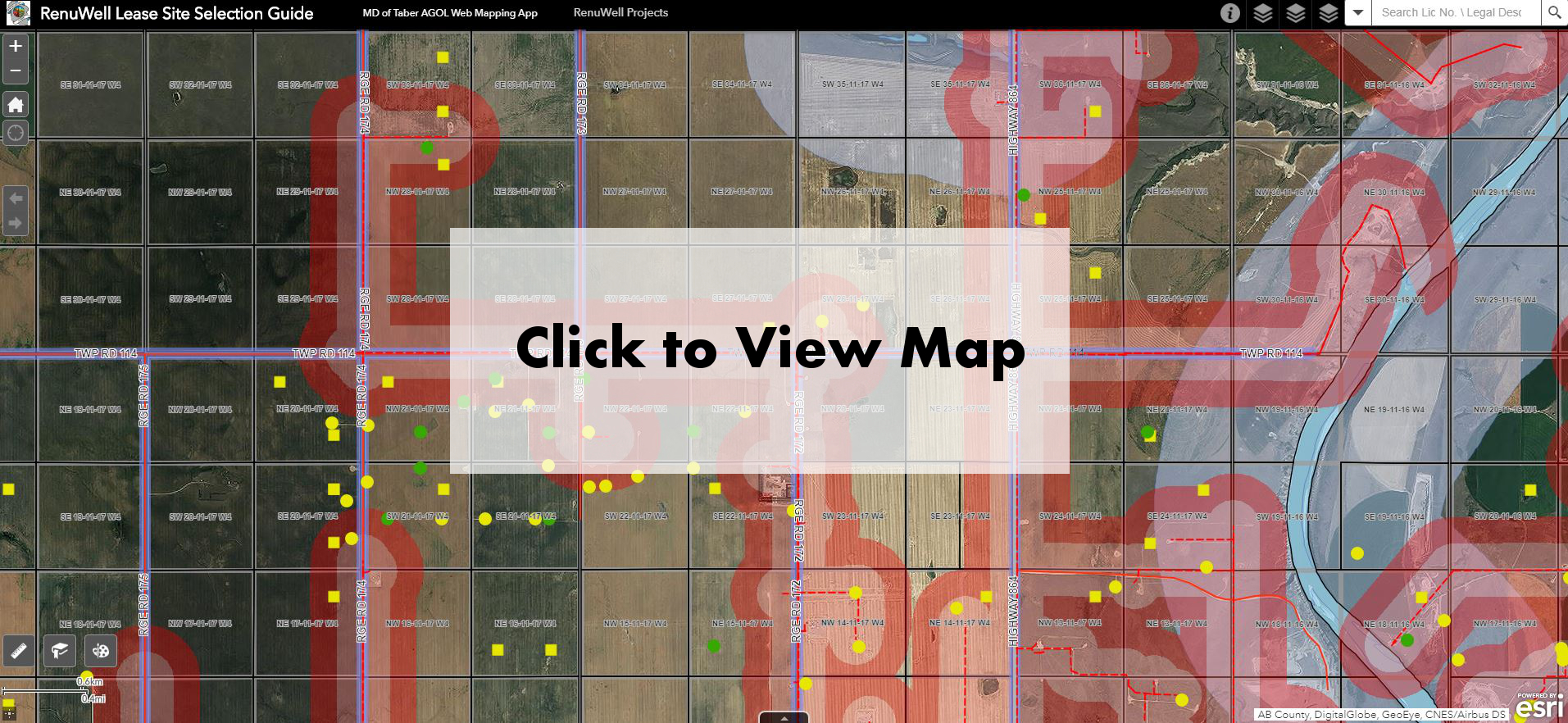 Feedback on the map application can be sent to: Feedback@mdtaber.ab.ca